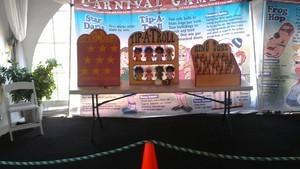 A450 Carnival Games 10-12 games and tables with pieces Your volunteers unload-setup-run- and reload truck No tents provided NO staff. Normal price $450.
Setup area: 8'x3' per game
Age Group: K-100
Actual Size: 6'x3' per game
Outlets: NA
AC Carnival Games are 10-12 games with little or no throwing selected for your location. Volunteers do all the work from getting games and tables (when provided based on available stock) from the truck, setting up the table and placing games on tables, and operate the games After the event volunteers return tables, games and all game pieces to the truck. No canopies, cones or ropes are provided for this package. Minimal game pieces are provided for loss prevention. tokens and game rules may be provided and must be returned. Number of games is determined by safety/throwing concerns in venue.