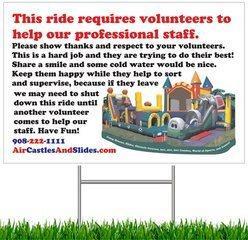 RentalSafety.com on line training and skills for volunteers helping supervise at your event. There is no maximum number of volunteers who may do the online training for your event.
Setup Area: personal home computer
Age Group: Adults over 18 years to be certified, any age to learn safety rules.
Attendants: Volunteers and at least one paid professional staff member from Air Castles for each inflatable rented.




Volunteer online training to assist our professional staff with supervising the children at a school, church, camp or public event. This training helps to reduce the cost of paid Air Castles staff required at your event. Volunteers for your event may need to complete this training program in advance of your event or we may need to use additional paid staff and reprice your event, or shut down the rides until trained volunteers are present. Training is an online video approximately 30 minutes long and is completely free for your volunteers. ***